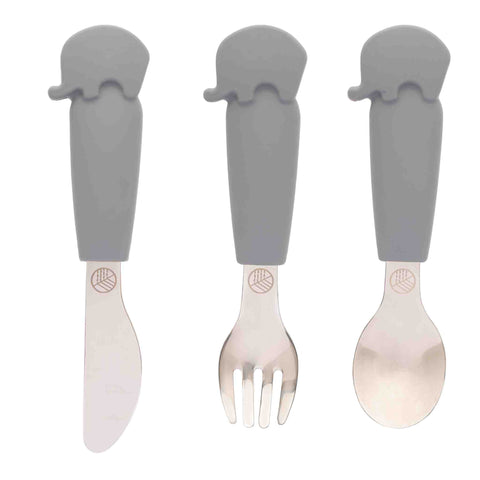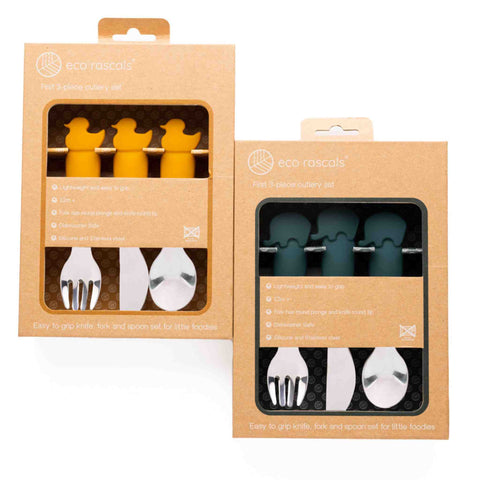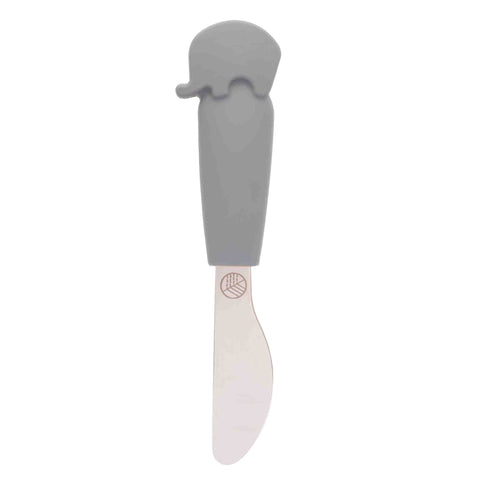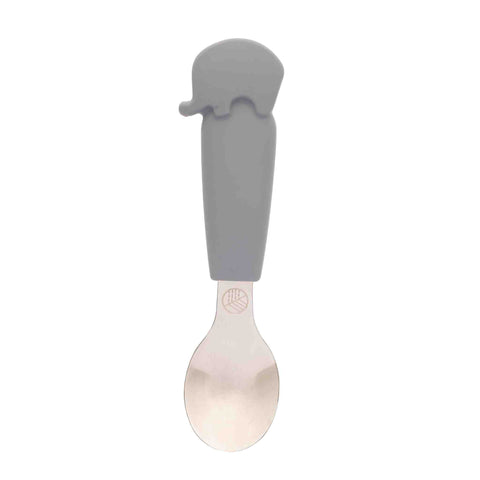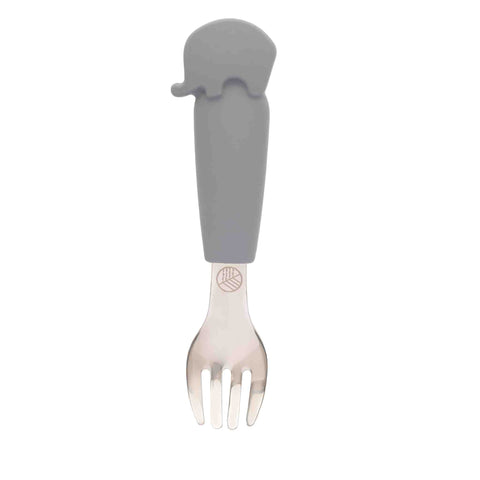 eco rascals Limited
Elephant Cutlery Set - 3 pieces - Silver
Cutlery Set - Elephant handles

This first three-piece cutlery set for kids with a spoon, fork and knife provides an easy to grip, non-slip and lightweight soft silicone handle helping the little foodies to focus on their mealtimes.
This fun cutlery set provides the essential tools required for children to eat independently.
It's the perfect size for toddlers and pre-schoolers who have graduated from finger foods and spoon feeding and are beginning to self-feed for the years to come.
🌿 Composition
Material

We use the highest standard of silicone in our cutlery. They are LFGB food safe silicone which has a more comprehensive and strict food safety testing guidelines. Silicone has excellent temperature and chemical resistance. It's nontoxic and safe for food and drink.

BPA, Lead, Phthalates, PVC, Mercury, and Latex free
Water and stain resistant
Hypoallergenic and easy to clean
Food grade stainless steel is used for the spoon feeder, knife and fork which is scratch-resistant, non-toxic, long-lasting, and extremely durable.

Our products comply with BS EN 14372:2004 safety requirements – the most rigorous European safety standard for infant's cutlery and feeding utensils. Our products have been tested for physical safety and chemical migration.
📦 Delivery & Returns
We ship worldwide using a variety of couriers. Orders placed before 2pm on a UK working day, will be shipped out on the same day.

You will receive a unique tracking code for all orders to determine exact time of delivery in your confirmation e-mails.

We accept returns for re-sellable products to our UK warehouse. The cost to return an item is borne by the customer.
💧 How to care for us
Info & Care

Dishwasher safe

Not suitable for the microwave

Before first use, wash in warm soapy water or put in the dishwasher. This is how to care for the product after each use too. Do not use harsh or abrasive chemicals when cleaning your children's tableware.
🏆 Who are eco rascals®?
eco rascals® is an award-winning children's tableware brand committed to sustainability and eco-conscious living.

We specialise in producing high-quality, non-toxic tableware for children, made primarily from sustainable materials like bamboo and silicone.

All products are in-house designs and are as stylish as they are functional. They undergo rigorous safety checks before they appear on the shelves - giving customers the peace of mind that they are truly safe for their children.